At the beginning of Finals Week, Murray State men's basketball
coach Steve Prohm
tweeted that Monday's basketball practice would be open for any MSU students who wanted to stop by.
Since I was free Monday afternoon, I decided to stop by and see what it was all about. I'll admit, I totally jumped on the Murray State basketball bandwagon in 2011-2012 when we were the last undefeated team in the nation (and Dick Vitale came to visit and my eyeball made it into a photo with him– someday I'll post about that) but our winning streak has come to an end, and well, so has my enthusiasm for basketball. (I mean, I went to a game a few weeks ago and sat down in the student section the whole time. What has happened to me?!)
For over an hour and a half– possibly longer, since I left early– I watched the men run drills over and over again. Seeing first-hand the hard work that these men put in makes me so appreciative of their hard work. We may not have the best record this season, but I'm a Racer… I mean Racer alum (this being a graduate stuff hasn't quite hit me yet) and I'm going to stick by my team, win or lose.
One of the best things about Murray State is the kindness of the Murray community. Not only was Coach Prohm nice enough to open practice for us, but he personally went to speak to every student that came to watch– myself included.
Although I don't personally know Coach Prohm, I do remember reading in the Murray State News (during our big winning streak of 2011-2012) that he is a Christian and his faith inspires his coaching; the team's theme that year was "stay on the wall" like the story of God's people rebuilding the walls of Jerusalem. So to say I was thrilled to meet him was an understatement. I have no photographic proof of us conversing– I didn't want to stand out as the weird one! I already stood out as the only girl at practice– but there is proof of me being at practice.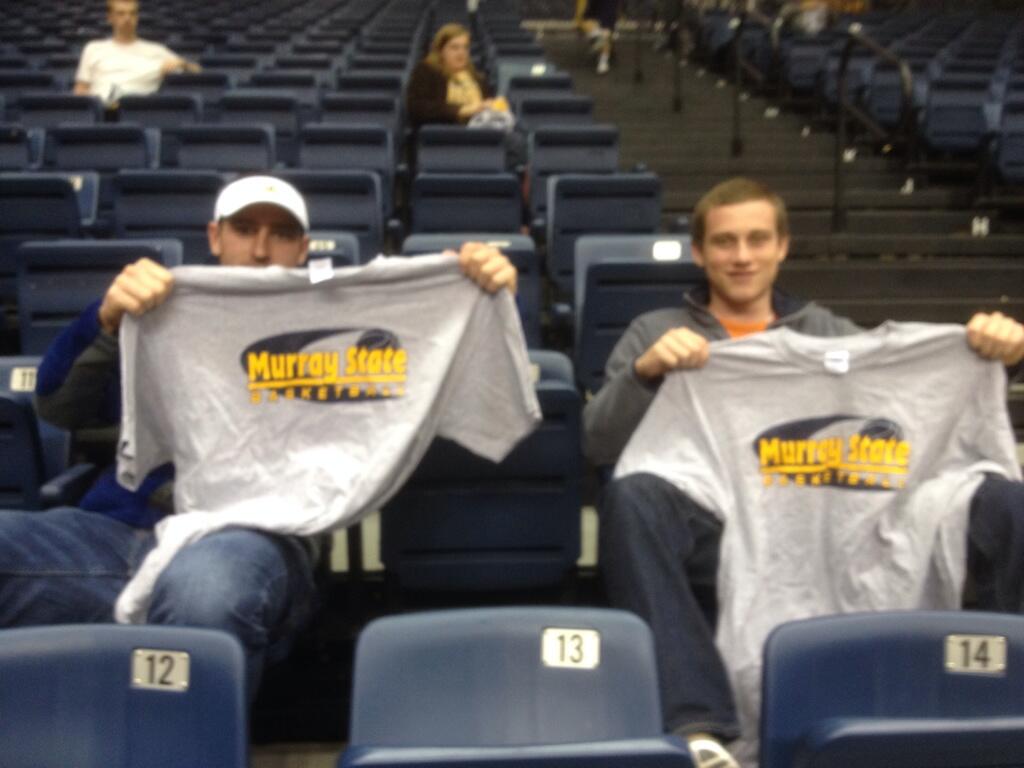 See the blob in the brown coat with tan scarf and ratty-looking hair? That's me. I stuck out like a sore thumb. At one point, Coach Prohm was motivating his players and said something about how the people in the stands could do that drill. He looked my direction and I laughed because I definitely could not do that drill.
As if saying hello wasn't nice enough, Coach Prohm even gave the students free t-shirts. Sure, they were an XL, but being the creative girl that I am, shrinking it in the dryer wasn't my only option. I decided to be a typical college girl for the first and last time ever by throwing on a pair of leggings and Uggs and calling it my outfit. (Don't worry, I had on shorts under my t-shirt. Gotta stay modest you know.)
Sitting in on the men's basketball practice was an experience I never thought I would have. I'm so grateful to be a Racer alum and to have had so many wonderful opportunities that I would have never had if I went somewhere else for undergrad.